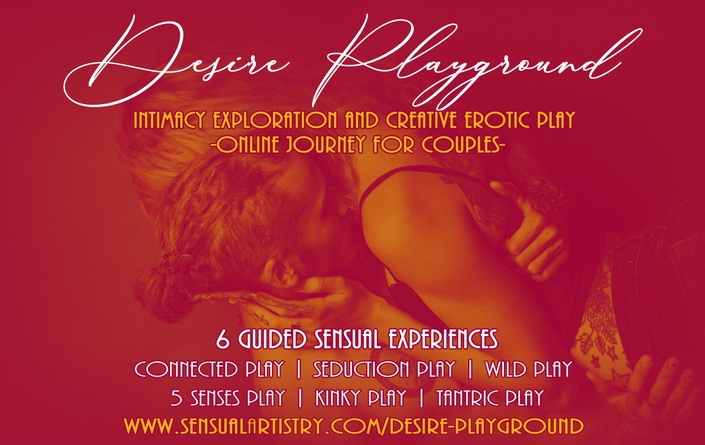 Desire Playground
Deepen intimacy and explore sacred sexuality through 6 Sensual playdates for couples (of all genders)
Enroll in Course
WE HAVE MOVED OFF TEACHABLE!
This account is now closed, please go to our new website to access the course!
Are you and your lover looking for more passion and erotic connection? To explore some delicious conscious sexuality tools, re-ignite your desire and deepen your intimacy?
This mini-course is for you! I've put together some of my favourite exercises that help spark desire, build conscious communication skills and get you feeling creatively inspired in the bedroom.
This course is designed around 'playdates'- a few exercises to do together for some sensual couple time- like your own private, personal neo-tantra workshop without leaving home (and leaving the space to take it as far as you desire!) So not only do you get to learn some fun conscious sexuality tools but you get more excuses for more juicy interactions together!
The course will be launched over a 3 week period, giving you 2 playdates per week. Of course you can do this totally at your own pace, once a week, once a fortnight or do them every night if you like! And you'll always have access to the audios to do them whenever you feel like it.
And all the exercises are queer-friendly!
The playdates
All of the playdates begin with a communication exercise, an intimacy building exercise then the main practice that can potentially lead and include sex, or be a main-course experience on it's own!
Here's what you'll get over the 3 weeks...
CONNECTED PLAY
The first date is all about getting in sync with one another, communicating your desires and giving a devotional sensual experience to your lover. Here you'll get to express your desires and how you want to be played with.
SEDUCTION PLAY
This date is all about the art of seduction! You'll explore compliments, flirtation and appreciation then get to give one another a sacred, sensual lapdance (Don't worry if you're not a confident dancer, there are options even including blindfolding your partner ;) )
WILD PLAY
Sometimes you just need to let your inner animal out to play! This segment is for getting a bit wild and playful with one another and inviting some primal energy into the mix.
5 SENSES PLAY
Here we'll be getting connected with some breathwork before dropping into the body for a delicious tantric ritual dedicated to activating the senses, as well as some sensory deprivation.
KINKY PLAY
Power play, fantasy, S&M... there are so many ways to explore Kink! For this playdate we'll explore some tantric kink and you can create your own kinky ritual.
TANTRIC PLAY
For this final practice you'll do some deep partner work, starting with Soul Gazing and then some neo-tantric partner breathwork and connection for a delicious sacred erotic experience.
All of these tools are simple enough for total beginners and leave enough creativity and space to drop deep that even experienced couples can get a lot out of it! There is also an option to get an additional 2 private coaching sessions to help work through any unique obstacles or resistances coming up for you in your relationship that might be getting in the way of your intimate connection.
FAQ
So How does this work? What will the course look like?
When you sign up you'll get added to the teachable website where the course is hosted.. as a couple you can create a login together for the course so you both have access.
For each playdate you'll get an introduction video with instructions and a bit about the experience, a PDF with the kind of things you need to set up for the night then some guided audios that you can follow along with while you explore!
You can do these totally in your own time when you want to... you can decide if you want to do the 2 dates per week when they're released or if you want to only do 1 a week or 1 a fortnight.
There is a facebook group to ask questions about the course and share about your experiences!
How long are the dates?
They are between 40 minutes and an hour in total, and can take longer if you want to extend a practice to take it deeper, include sex or repeat the exercises.
What if we're a same-sex couple/NB?
We don't get in to gender in the practices, there will just be a 'Partner A' and 'Partner B' so it's suitable for people of all genders and orientations.
Can I join after the start date?
You can join at any time within the 3 weeks, after that the container is closed until the next round.
I'm not really in to spirituality and 'energy' so not sure if this is for me....
This course isn't so much about theory and explaining tantra and spiritual sexuality, it's more about trying out the experiences for yourself and building intimacy with your partner. You might try some of the neo-tantra practices and not feel much or you might surprise yourself! Even without the Tantric practices there are lots of fun practical skills and date experiences so you can still get something out of it! Communicating desires, investing in your relationship and creating space for intimacy is already going to make a big change in your relating!
THE INVESTMENT
This beautiful journey with access to the practices on the teachable course for both of you is only €180, or 2 fortnightly payments of €100
Limited Low income/hardship spaces by request
DELUXE- If you want to include 2x private couples coaching sessions (60 mins) then the price is only €480
We start April 18!
Your Instructor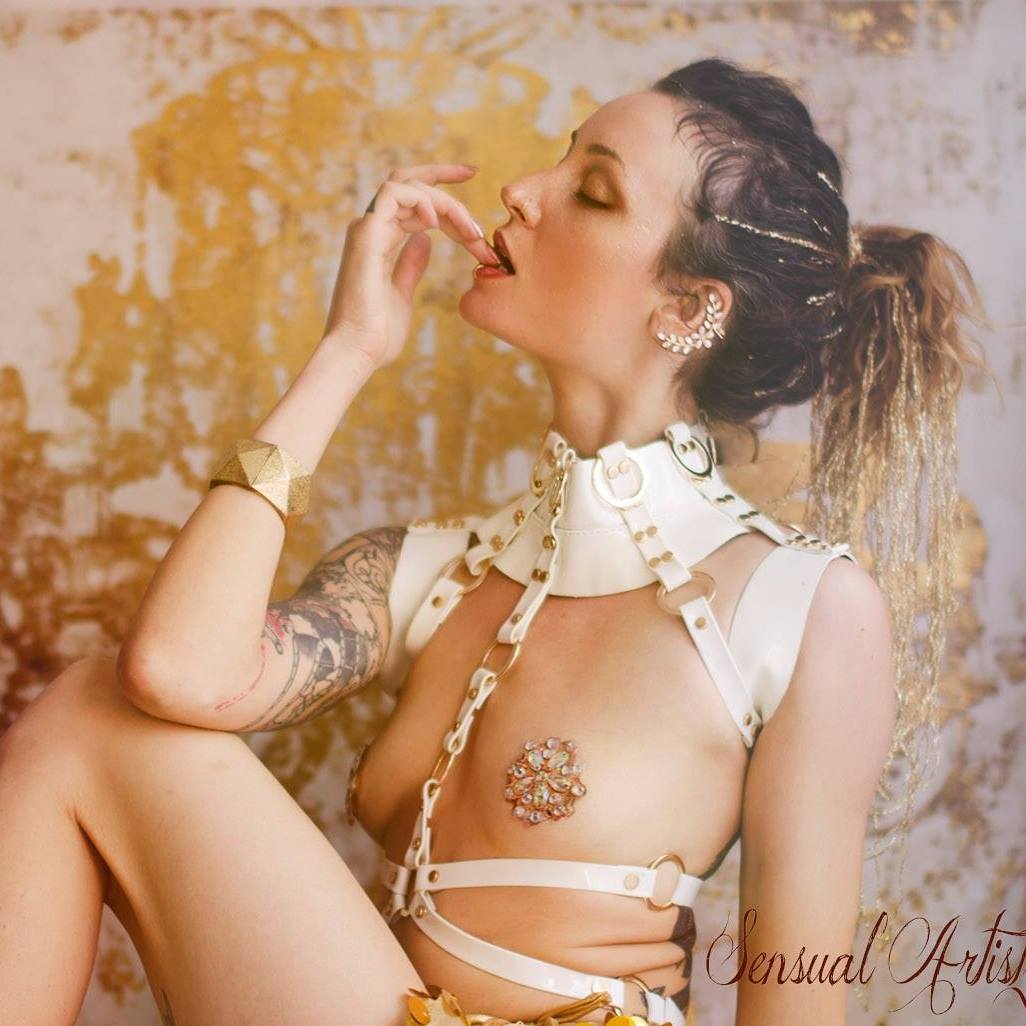 Australian born and word travelling nomad, Luna has been working between the adult industry and the spiritual communities for 8 years. Her passion is fusing the conscious communities and the kink and sex positive spaces. Luna has been doing yoga, tantra, meditations and all kinds of spiritual healing modalities over the years, getting certified as a Yoga instructor in 2016 and is currently studying at the Tantric Institute of Integrated Sexuality. She has been practicing shibari for 4 years, mostly studying in Berlin with the contemporary rope scene as well as at dojos and with various amazing teachers around the world. She has developed her own person style of Sensual Ropes and rope rituals- selling out workshops regularly.
Course Curriculum
Welcome
Available in days
days after you enroll
Connection Play
Available in days
days after you enroll
Seduction Play
Available in days
days after you enroll
Frequently Asked Questions
How long do I have access to the course?
How does lifetime access sound? After enrolling, you have unlimited access to this course for as long as you like - across any and all devices you own.